It has been a while since I last posted.
Between work, my boys' schedules, and preparing for the craft show, things have been hectic.
It has been a good hectic though.
The
craft show
was this past Saturday.
It was the first craft show I have done in several years and it was my first craft show selling non-jewelry items.
I chose to do this show to get my feet wet and maybe start selling at shows regularly.
I put a lot of eggs in this basket.
I wanted to make money but mostly, I wanted my work to be liked and appreciated.
Selling or displaying handmade work is like putting a piece of your heart (and your pride) out on a table.
It's difficult not to take it personally when someone walks by without even a glance.
You want them to see the love, ideas, and work you put into each item.
I did my best not to give sad puppy dog eyes to everyone who walked by me.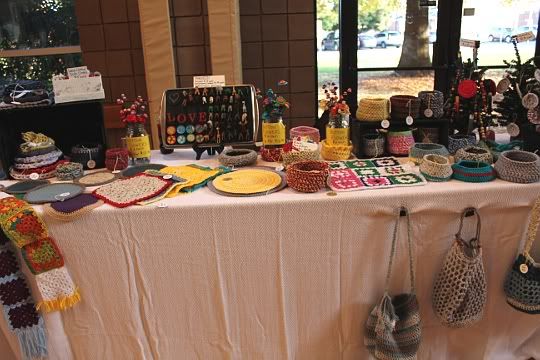 I learned a lot from this show and thought that I could share those lessons with other people who want to start selling at shows. I did sell some items and I received some good feedback.
However, I did not sell much at all.
The first few hours of the show, it made me sad.
I doubted my talents and myself.
Then I started noticing some things.
No one was really selling much.
More than half of the show was independent consultants and not handmade items (candles, make up, kitchen items – the kind of items that people host parties at their house to sell).
That made it difficult for the handmade vendors to compete.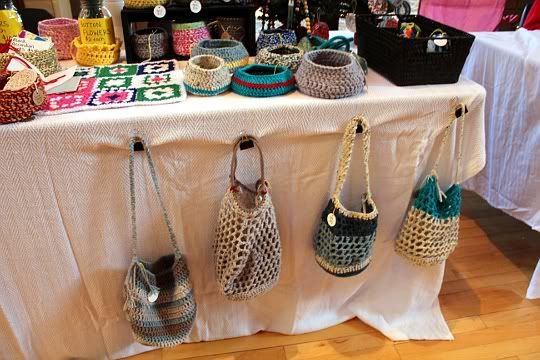 LESSON NUMBER 1 – ALWAYS ask if the show is 100% handmade.
If it's not, then reconsider if it's the show for you.
There was some great talent at that show that was being overlooked because of the mass produced NON-handmade items.
One of the things I enjoy about shows is talking to other artists about their craft and their process.
I met a girl who had beautiful pottery and found out she set up a pottery studio in her backyard shed.
I bought a hand dyed silk scarf from a lady who had an interesting technique of dying silk using men's ties for different textures and looks.
I also bought a fabric rug from a woman who uses a 100-year old loom to weave the rugs.
It has been in her family and the trade passed down over each generation.
I love that I have that history on my kitchen floor right now.
Can those mass produced items provide the same thing?
Nope.
The ladies at those tables were very nice and just trying to make money but I learned that I missed not having more artists to learn about and get to know.
LESSON NUMBER 2 – Figure out a way to accept credit cards.
I had decided not to accept credit cards because I wanted to see if it was something I needed to do.
I only lost one sale because of it but I need to figure out how I'm going to do that going forward.
LESSON NUMBER 3 – Be willing to take advice from seasoned sellers.
The lady at the table next to me was selling jewelry and has been doing shows for a number of years.
She was a wonderful resource.
She gave me some advice about credit cards and gave me the email address of a woman scheduling for an actual handmade show in December.
You would think that people selling would not be friendly due to the competitive nature of selling but it's not typically like that.
There is a true community among artists and crafters and I love that.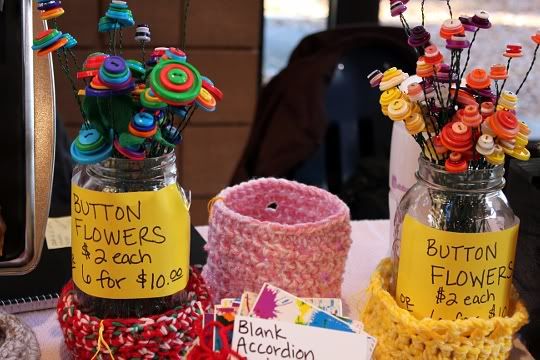 LESSON NUMBER 4 – Just because you aren't successful at one show does not mean that your work won't be successful somewhere else.
I think part of my issue was that the show I did was at an older church in town.
The majority of the shoppers were much older people who were lovely and gave me good feedback, but I think my work would do better aimed at a younger demographic.
I just need to find the right shows for me.
LESSON NUMBER 5 – When all else fails, have your husband stop at the liquor store on the way home from the show.
It takes the edge off a bit.
Also, a date night right after the show is a beautiful thing for blowing off steam.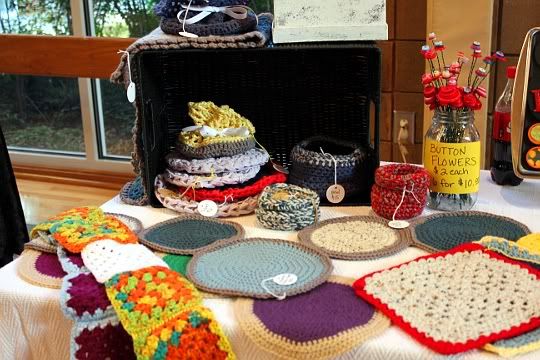 Was this show everything I'd hoped it would be?
No, but I decided to learn from it and move forward.
I have some ideas about some other things I want to do before I do another show.
I still love everything I put on that table so I know I'm doing what's right for me.
I have a lot of things to share in future posts and some DIY posts to come.
I'm looking forward to a slow paced week and time with family.
Happy Thanksgiving!