So often I stumble across an idea and wish so badly that I had a time machine and could go back in time to be the ONE who thought up this great idea. The idea behind these animal magnets is one such idea. I've seen this idea on several blogs and on Pinterest - my favorite blog explanation is this
one
I've accepted the fact that I wasn't the genius to think up this idea but I still wanted to try it out. They are really fun. I started out by buying
these
at Michael's craft store. I had a 50% off coupon that I used. I think to make more, I'm going to seek them out at the Dollar Store. One note I will make though is to make sure you buy the solid figures and not hollow figures because those wouldn't work with this idea.
Jay helped out with this craft - partly because his hands work better at this kind of thing and this way I could take photos. We started out using an Xacto knife but the blade broke so we switched to a kitchen knife and it worked great.
Cut all of the animal toys in half -- it feels kind of sick doing it but, it's ok, they aren't real.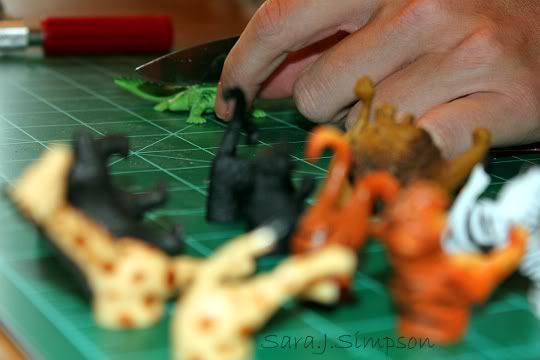 This image is kind of disturbing...they aren't real, they aren't real, they aren't real...
After they are all cut in half, use a hot glue gun and glue a magnet to each one. Voila! Animal magnets! I prefer the rear end magnets. They make me giggle.

You wish you had thought of this idea too, huh? Well you didn't - and neither did I. We can still make them though.