I want colorful art hanging around our house. Unfortunately, our budget does not allow me to buy much art so we make do with what we do have -- our own hands and some ideas. I thought I'd share a couple of ideas here. Two Easy Art ideas that don't require a lot of time, skill, or money!
Doodle Book Pages:
I decided it might be fun to add some colorful doodles to someone else's art work. I found an old book from the 1970s that was all about Canaries and taking care of them as pets. There were multiple pages of colorless canary drawings throughout the book.
What you need: A book you don't mind cutting out pages to use, Sharpies (or other markers but seriously - who doesn't love a Sharpie?), and something to mat and frame the finished product (or just a frame).
Cut out the pages you want to use, sit down with a marker, and....DOODLE!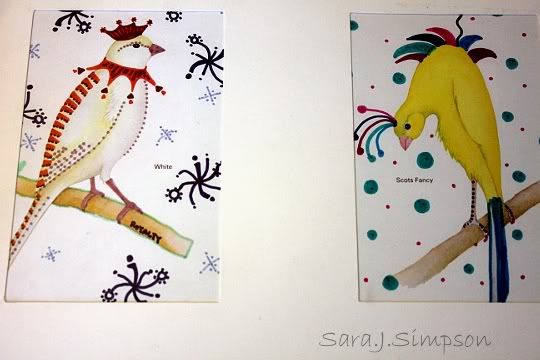 I chose 3 canary pages to doodle because I had an inexpensive frame that was matted for 3 5x7 sized spaces. My pages were just about 5x7" so fit perfectly.
I didn't take a great photo of the actual framed piece because it's currently off the wall while I decide where to put it next. You get the gist though -- 3 pictures, some extra color, easy art. Not fine art, mind you, but colorful and fun to hang on the wall.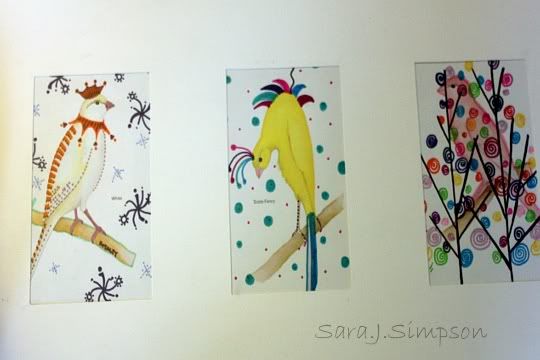 Photography for Child's Room:
This next little project was something I did for my youngest son's bedroom. He has always loved cars - the movie, the matchbox variety; you name it, he loved it. Once he outgrew his nursery and wanted a "big boy room", I wanted to find some art to hang that he would enjoy.
What you need: a camera, some favorite toys, good lighting, and I used a white sheet for the background. I also used an editing software to add some texture but that's really optional.
I went outside with a bucket of his favorite cars and took some close up photos. I used a white crib sheet to for the background and some good outdoor lighting (Thanks, Sun!)

I had these printed locally as 8x10 photographs and it cost me less than $20 to have them printed (I think I printed 7-8 photos total). I hung them in inexpensive frames around his room. He loved them! That was when he was 4 years old, he's now 6 and still loves them.

There you go -- 2 Easy Art DIY ideas. You don't have to spend a lot of money or only hang fine art in your house to add some color and interest.